Uniform
It is our policy that children should wear uniform when attending Riverside School , Tadcaster. The Governing Board agrees with the DfE which states that 'school uniform plays a valuable part in contributing to the ethos of the school and setting the appropriate tone'.
Click here to go to our Uniform page to order
Our parent teacher organisation "Friends of Riverside" also sell second hand unform, click here to go to their website

The DfE also states that uniform:

• Encourages identity and support for the school ethos.
• Ensures that pupils from all races and backgrounds feel welcome.
• Nurtures cohesion and prompts good relations between pupils.
• We are extremely proud of our very smart school uniform which children are happy and confident to wear and keen to maintain our high standards.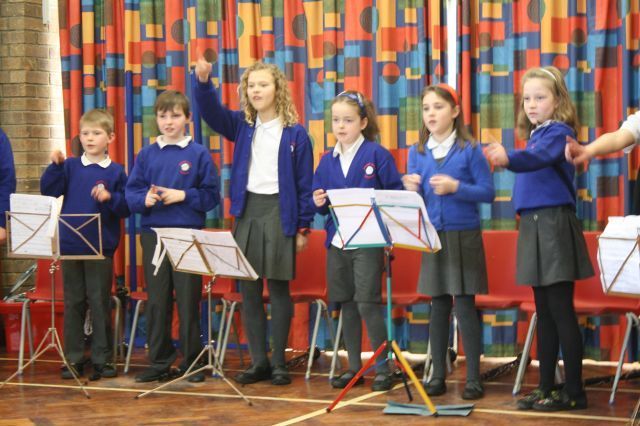 Round necked sweatshirt or cardigan - Royal blue (School badge branded article available via School Office)
• Short or long trousers - Grey
• Skirt or pinafore dress - Grey
• Shirt/blouse - White or light blue
• Dress (summer) - Light or dark blue gingham
• Socks - Grey or white
• Black/brown sensible school shoes- no heels please
The following items of school uniform are available from our local uniform supplier (order forms in school though much is available from stock kept at the School Office):
School sweatshirts - Royal blue with embroidered school badge
Cardigans - Royal blue with embroidered school badge
School polo shirts - White with embroidered school badge
School T-shirts (P.E.) - Colour teams from Reception with printed school badge
Please ensure all items of clothing are named.
It is dangerous for children to wear shoes with heels or platforms so we do not allow these in school. Neither do we allow children to wear any kind of boots or trainers. Trainers are appropriate footwear for sport and leisurewear, but are not in keeping with the smart appearance of a school uniform. School shoes must be black /brown in colour with no flashes or coloured sections. In winter it is good practice to walk to school in boots or wellingtons and change into school shoes on arrival. If your child becomes muddy regularly, then you may be asked to provide a spare pair of shoes to change into indoors.
Occasionally children arrive at school wearing somewhat eccentric clothing (and this includes hairstyles) and this can indicate a challenge to authority. In such cases the children will be asked, and be expected, to conform to a more conventional standard.
Children throughout school are expected to change for PE, into ordinary sports (football) shorts, T-shirt (colour 'houses' from Year 1), P.E. skirt, or leotard.
Colourful beachwear, cycle shorts or eccentric clothing are not permitted.
Children need a bag for their change of clothing for PE or spares sets which will hang on their peg. Space is very limited so please ensure bag size is kept as small as possible.
Jewellery – Children need to be free of jewellery (including necklaces/chains and earrings).
For health and safety reasons we do not allow any jewellery for PE and swimming and ask that children do not wear it for school. No bracelets or wrist bands are allowed. Children may wear a watch however the school does not accept responsibility for any valuables bought to school and advises that any possessions should be left at home.
Earrings and PE: Please ensure your child does not wear jewellery to school. Whilst small stud earrings can normally be worn these should not be worn on PE days unless they can easily be removed by the child. If you are considering getting your child's ears pierced please therefore have this done at the beginning of a longer school holidays so that by the return to school they can be removed. If a child wears earrings on a PE day and they cannot be removed , your child may need to sit out of PE.
·Year 4 - earrings not to be worn on swimming days
With regard hairstyles, any colouring should be of a naturally occurring tone. The style and length should be sensible and appropriate for school. No shaved haircuts below a 'number two' and no track designs should be shaved.